Subscription Agreement
MASTER SUBSCRIPTION AGREEMENT
This Master Subscription Agreement (the "Agreement") is made and entered into by and between [name of subscriber] ("you"), a [name of state of incorporation of subscriber] corporation, having offices at [address of subscriber], and Opie Productions LLC, a Limited Liability corporation, having offices at 6869 Johnson St., Arvada CO 80004 ("Vendor"), and is made effective as of [effective date of agreement] (the "Effective Date"). Capitalized terms defined in the body of the Agreement are defined in Section 21. In consideration of the foregoing and the mutual covenants and conditions set forth below, and for other good and valuable consideration, the receipt of which is hereby acknowledged, the parties agree as follows:
1. Services
You agree to the following terms and conditions governing your and your organization's use of the Vendor online software solutions or other corporate ERP services, collectively the "Service(s)," identified during the ordering process, developed, operated, and maintained by Vendor, accessible via https://www.mobilepermissions.com or IP address, or ancillary online or offline products and services provided to you by Vendor, to which you are being granted access under this Agreement, including the Vendor Technology and the Content.
2. License Grant and Restrictions
2.1. Subscription to the Services.
Subject to the terms of this Agreement, Vendor hereby grants to you a non-sublicensable, non-transferable, non-exclusive subscription to access and use the Services through the mobilepermissions.com Services by the number of Recipients for which you have paid the applicable subscription fee, in accordance with the Documentation and solely for your business purposes of creating reports or other output allowed by the Services.
2.2. Additional Recipients.
If Customer wishes to add additional Recipients ("Additional Recipients"), you must submit a new executed order form ("New Order Form"). Upon Vendor's acceptance of the New Order Form, Vendor shall make the Services available to the Additional Recipients on the terms and conditions set forth in this Agreement and the approved New Order Form. With respect to Additional Recipients: (i) the term will be coterminous with the preexisting subscription term (either initial term or renewal term); and (ii) Customer will be responsible for any additional fees for the Additional Recipients in full for the year in which the New Order Form is accepted by Vendor; and (iii) Customer will have to create a New Order Form for Additional Recipients if the Recipient number exceeds 3% of the original number of paid Recipients. All rights not expressly granted to you are reserved by Vendor and its licensors.
2.3. Restrictions.
You shall not: (i) license, sublicense, sell, resell, use as a service bureau, or otherwise use the Services for a third party's benefit, transfer, assign, distribute or otherwise commercially exploit or make available to any third party the Service, Vendor System, or the Content in any way; (ii) modify or make derivative works based upon the Services or the Content; (iii) create Internet "links" to the Services or "frame" or "mirror" any Content on any other server or wireless or Internet-based device; (iv) reverse engineer or decompile the Services or Vendor System; (v) interfere with in any manner the Services or Vendor System; or (vi) access the Services for purposes of monitoring its availability, performance or functionality, or for any other benchmarking or competitive purposes.
3. Your Responsibilities
You are responsible for all activity occurring under your User accounts and shall abide by all applicable local, state, national and foreign laws, treaties and regulations in connection with your use of the Services, including those related to data privacy, international communications and the transmission of technical or personal data. You shall: (i) use commercially reasonable efforts to prevent unauthorized access to, or use of, the Services, and will notify Vendor promptly of any such unauthorized use of any password or account or any other known or suspected breach of security; (ii) report to Vendor immediately and use reasonable efforts to stop immediately any copying or distribution of Content that is known or suspected by you or your Users; and (iii) not impersonate another Vendor user or provide false identity information to gain access to or use the Services. You will not use your access to the Services to: (a) access or copy any data or information of other users without their consent; (b) harvest, collect, gather or assemble information or data regarding other users without their consent; (c) knowingly interfere with or disrupt the integrity or performance of the Services or the data contained therein; or (d) harass or interfere with another user's use and enjoyment of the Services.
4. Customer Data
4.1. Customer Data.
Vendor does not own any data, information or material that you submit or make available to Vendor or the Services, including, without limitation, data or information made available to Vendor from your mobilepermissions.com instance ("Customer Data"). You, not Vendor, shall have sole responsibility for the accuracy, quality, integrity, legality, reliability, appropriateness, and intellectual property ownership or right to use of all Customer Data, and Vendor shall not be responsible or liable for the deletion, correction, destruction, damage, loss or failure to store any Customer Data, except to the extent caused by Vendor's gross negligence or intentional misconduct. You are solely responsible for the Customer Data and will not provide, post or transmit any Customer Data or any other information, data or material that: (a) infringes or violates any intellectual property rights, publicity/privacy rights, law or regulation; or (b) contains any viruses or programming routines intended to damage, surreptitiously intercept or expropriate any system, data or personal information. Vendor may take remedial action if Customer Data violates this Section 5.1; however, Vendor is under no obligation to review Customer Data for accuracy or potential liability.
4.2. Processing of Data.
You hereby expressly consent to Vendor's processing of Customer Data, including any personally identifiable data contained therein, you provide to Vendor or which may be collected by Vendor from your mobilepermissions.com instance according to this Agreement and Vendor's Privacy Policy located at https://www.mobilepermissions.com/privacy-policy/ ("Privacy Policy").
4.3. Mobilepermissions.com Instance.
You acknowledge and agree that in order to provide Services to you, you must allow Vendor brief but periodic access to your Mobilepermissions.com account to retrieve, manipulate, and modify Customer Data. You hereby grant Vendor permission to access your Mobilepermissions.com account solely as is necessary to provide Services. If Vendor cannot for any reason access your Mobilepermissions.com account, Vendor may not be able to provide you Services, and Vendor will be excused from any nonperformance of Services arising from your failure to allow Vendor access to your Mobilepermissions.com account.
5. Support, Service Levels, and Security
5.1. Support.
Support services provided by Vendor in connection with the Service under this Agreement are set forth at https://www.mobilepermissions.com/help-section/. Vendor reserves the right to modify the support services in its reasonable discretion from time to time, which modifications shall become effective upon posting to the above URL.
5.2. Service Levels
Subject to the terms of this Agreement, Vendor shall use commercially reasonable efforts to make the Service generally available 24/7 (24 hours a day, 7 days a week), except for: (i) planned downtime of the Vendor Service, which shall be any period outside of the hours of 7 am to 9 pm, Mountain Time, Monday through Friday and 8 am to 5 pm Mountain Time, Saturday, Sunday and Holidays, for which Vendor uses commercially reasonable efforts to give eight (8) hours or more notice that the Vendor Service will be unavailable; and (ii) downtime caused by circumstances beyond Vendor's reasonable control, including without limitation, the Mobilepermissions.com Service, acts of God, acts of government, flood, fire, earthquakes, civil unrest, acts of terror, strikes or other labor problems, telecommunications or network failures or delays, computer failures involving hardware or software not within Vendor's possession or reasonable control and acts of vandalism (including network intrusions and denial of service attacks), but only if such unavailability results notwithstanding the exercise of reasonable care and diligence to avoid or mitigate the same in anticipation of or in response to such causes. Customer is solely responsible for providing, at its own expense, all network access to the Vendor Service, including, without limitation, acquiring, installing and maintaining all telecommunications equipment, hardware, software and other equipment as may be necessary to connect to, access and use the Vendor Service.
5.3. Security.
"Appropriate Security Measures" means commercially reasonable technical, physical and procedural controls to protect Customer Data against destruction, loss, alteration, unauthorized disclosure to third parties or unauthorized access by employees or contractors employed by Vendor, whether by accident or otherwise. Vendor has implemented Appropriate Security Measures and maintains the Vendor Service at reputable third-party Internet service providers and hosting facilities. Vendor does not control, and has no responsibility or liability for, security issues caused by the Mobilepermissions.com Service. Customer acknowledges and agrees that, notwithstanding such Appropriate Security Measures, use of or connection to the Internet provides the potential opportunity for unauthorized third parties to circumvent such precautions and illegally gain access to the Services and Customer Data. You acknowledge you reviewed this Section 6.3 and determined these security procedures and measures are adequate with respect to your use of the Services.
6. Intellectual Property Ownership
6.1. Ownership.
Vendor alone (and its licensors, where applicable) shall own all right, title, and interest, including all related Intellectual Property Rights, in and to the Vendor Technology, the Content and the Services and any suggestions, ideas, enhancement requests, feedback, recommendations or other information provided by you or any other party relating to the Services. This Agreement is not a sale and does not convey to you any rights of ownership in or related to the Service, the Vendor Technology or the Intellectual Property Rights owned by Vendor. The Vendor name, the Vendor logo, and the product names associated with the Services are trademarks of Vendor or third parties, and no right or license is granted to use them.
6.2. Customer Duties.
You retain all right, title, and interest in and to the Customer Data. You grant to Vendor all necessary licenses and rights in and to such Customer Data solely as necessary for Vendor to provide the Services to you or as required by law. You will be solely responsible for providing all Customer Data required for the proper operation of the Services. Vendor will not knowingly use or access any Customer Data unless authorized to do so by you and, in such circumstances, Vendor will access and use such Customer Data only as required to perform services on behalf of you. You hereby authorize Vendor to use your name in a list of customers on the Vendor website.
7. Charges and Payment of Fees
Fees for Services are described in Exhibit A. You shall pay all fees or charges to your account in advance within 30 days of your receipt of an invoice from Vendor. The initial fees will be described on the Quote/Invoice. If you add Additional Recipients to the Agreement (or allow use of the Service by more than the paid-for number of recipients), Vendor may invoice you for the additional applicable fees, and payment is due within 30 days of your receipt of the invoice. All payment obligations are non-cancelable and all amounts paid are nonrefundable, except as expressly set forth to the contrary in this Agreement. You are responsible for paying for all Recipient licenses ordered for the entire License Term, whether or not such Recipient licenses are actively used. You must provide Vendor with valid credit card or approved purchase order information as a condition to signing up for the Services. Vendor can modify the prices by providing at least 30 days prior notice before the next renewal term of the Agreement.
8. Billing and Renewal
8.1. Billing.
If Vendor is authorized to do so, Vendor will automatically bill your credit card for any extension terms, or, if Vendor is not authorized to bill your credit card, Vendor will issue an invoice to you each year on the subsequent anniversary of the Effective Date. If Vendor issues an invoice, all amounts described in the invoice are due within thirty (30) days of your receipt of the invoice. The renewal charge for Services will be equal to the then-current number of total Recipient licenses times the then-current fees. Other services will be charged on an as-quoted basis. Vendor's fees are exclusive of all taxes, levies, or duties imposed by taxing authorities, and you shall be responsible for payment of all such taxes, levies, or duties, excluding only United States (federal or state) taxes based solely on Vendor's income. All amounts are quoted in and you must pay all amounts owed in U.S. Dollars.
8.2. Billing Information.
You must provide Vendor with complete and accurate billing and contact information. This information includes your legal company name, street address, e-mail address, and name and telephone number of an authorized billing contact and License Administrator. You will update this information within 30 days of any change to it. If the contact information you have provided is false or fraudulent, Vendor reserves the right to suspend or terminate your access to the Services in addition to any other legal remedies.
8.3. Billing Dispute.
If you believe your bill is incorrect, you must contact us in writing within 60 days of the invoice date of the invoice containing the amount in question to be eligible to receive an adjustment or credit.
9. Non-Payment and Suspension
In addition to any other rights granted to Vendor herein, Vendor reserves the right to suspend or terminate this Agreement and your access to the Services if you fail to pay any undisputed amount owed within thirty (30) days of its due date. Overdue amounts are subject to interest of 1.0% per month on any outstanding balance, or the maximum permitted by law, whichever is less, plus all expenses of collection. If you or Vendor initiates termination of this Agreement, you will be obligated to pay the balance due on your account computed in accordance with the Charges and Payment of Fees section above. You agree that Vendor may charge such unpaid fees to your credit card or otherwise bill you for such unpaid fees. Vendor reserves the right to impose a reconnection fee in the event you are suspended and thereafter request access to the Services.
10. Term
This Agreement commences on the Effective Date and will continue for an initial term of one (1) year ("Initial Term") unless terminated earlier as allowed herein. Upon the expiration of the Initial Term, this Agreement will automatically extend for successive renewal terms of one (1) year at Vendor's then current fees, provided that either party may terminate this Agreement or reduce the number of seats, effective only upon the expiration of the Initial Term or the then-current extension period, by notifying the other party in writing at least thirty (30) business days prior to the expiration of the Initial Term or then-current extension term, as applicable term. In the case of free trials, notifications provided through the Services indicating the remaining number of days in the free trial shall constitute notice of termination. Vendor reserves the right to terminate any Trial Period, at any time and without notice. Notwithstanding the above, you may at any time, upon sixty (60) days written notice to Vendor terminate this Agreement, with or without cause, and receive a pro rata refund for the payments made for that term.
11. Suspension; Termination for Cause
If you are in breach of this Agreement, Vendor may suspend your access to and use of the Services until you have cured the breach. Additionally, either party may terminate this Agreement upon written notice if the other party materially breaches the Agreement and does not cure such breach (if curable) within thirty (30) days after written notice of such breach. Upon the termination of this Agreement for any reason: (a) any amounts owed to Vendor by you under this Agreement before such termination will become immediately due and payable; (b) each party will return to the other all property of the other party in its possession or control; and (c) Vendor will remove all Customer Data from the System and all your access to or use of the System and Services will be immediately suspended. The rights and duties of the parties under Sections 2.3, 4, 7, 8, 9, 11, 13, 14, 15, 17, 20 and 21 will survive the termination or expiration of this Agreement.
12. Representations & Warranties
12.1. Mutual Warranty.
Each party represents and warrants that it has the legal power and authority to enter into this Agreement.
12.2. Customer Data Warranty.
You represent and warrant that you own or have obtained all rights, consents, permissions, or licenses necessary to allow Vendor access to, possession of, manipulation of, and use of the Customer Data.
13. Disclaimer of Warranties
EXCEPT AS EXPRESSLY SET FORTH IN SECTION 13, VENDOR AND ITS LICENSORS MAKE NO REPRESENTATION, WARRANTY, OR GUARANTY AS TO THE RELIABILITY, TIMELINESS, QUALITY, SUITABILITY, TRUTH, AVAILABILITY, ACCURACY OR COMPLETENESS OF THE SERVICES OR ANY CONTENT. VENDOR AND ITS LICENSORS DO NOT REPRESENT OR WARRANT THAT (A) THE USE OF THE SERVICES WILL BE SECURE, TIMELY, UNINTERRUPTED OR ERROR-FREE OR OPERATE IN COMBINATION WITH ANY OTHER HARDWARE, SOFTWARE, SYSTEM OR DATA, (B) THE SERVICES WILL MEET YOUR REQUIREMENTS OR EXPECTATIONS, (C) ANY DATA WILL BE ACCURATE OR RELIABLE, (D) THE QUALITY OF ANY PRODUCTS, SERVICES, INFORMATION, OR OTHER MATERIAL PURCHASED OR OBTAINED BY YOU THROUGH THE SERVICES WILL MEET YOUR REQUIREMENTS OR EXPECTATIONS, (E) ERRORS OR DEFECTS WILL BE CORRECTED, OR (F) THE SERVICES OR THE SERVER(S) THAT MAKE THE SERVICES AVAILABLE ARE FREE OF VIRUSES OR OTHER HARMFUL COMPONENTS. THE SERVICES AND ALL CONTENT IS PROVIDED TO YOU STRICTLY ON AN "AS IS, AS-AVAILABLE" BASIS. ALL CONDITIONS, REPRESENTATIONS AND WARRANTIES, WHETHER EXPRESS, IMPLIED, STATUTORY OR OTHERWISE, INCLUDING, WITHOUT LIMITATION, ANY IMPLIED WARRANTY OF MERCHANTABILITY, FITNESS FOR A PARTICULAR PURPOSE, OR NON-INFRINGEMENT OF THIRD PARTY RIGHTS, ARE HEREBY DISCLAIMED TO THE MAXIMUM EXTENT PERMITTED BY APPLICABLE LAW BY VENDOR AND ITS LICENSORS.
14. Mutual Indemnification
14.1. Your Indemnity.
You shall indemnify and hold Vendor, its licensors and each such party's parent organizations, subsidiaries, affiliates, officers, directors, employees, attorneys and agents harmless from and against any and all claims, costs, damages, losses, liabilities and expenses (including attorney's fees and costs) arising out of or in connection with: (i) a claim arising from or related to Vendor's access to, possession of, manipulation of, and use of the Customer Data as is necessary to provide Services; (ii) a claim, which if true, would constitute a violation by you of your representations and warranties; (iii) a claim arising from Vendor's access to your Mobilepermissions.com account. Vendor will: (a) give written notice of the claim promptly to you; (b) give you sole control of the defense and settlement of the claim (provided that you may not settle or defend any claim unless you unconditionally release Vendor of all liability and such settlement does not affect Vendor's business or Service); and (c) provide to you all available information and assistance.
14.2. Vendor's Indemnity.
If any action is instituted by a third party against you based upon a claim that the Services or Vendor System, as delivered, infringes a United States patent, copyright or trademark, Vendor will defend such action at its own expense on behalf of you and will pay all damages attributable to such claim which are finally awarded against you or paid in settlement of such claim. Vendor may, at its option and expense, and as your exclusive remedy hereunder: (a) procure for you the right to continue using the Services; (b) replace or modify the Vendor System or Services so that it is no longer infringing but continues to provide comparable functionality; or (c) terminate this Agreement and your access to the Services and refund any amounts previously paid for the Services attributable to the remainder of the then-current term of this Agreement. Vendor will have no liability to you for any infringement action that arises out of a breach of the terms and conditions of this Agreement by you or of the use of the Services or Vendor System: (i) after it has been modified by you or a third party without Vendor's prior written consent; or (ii) in combination with any other service, equipment, software or process not provided by Vendor where the combination is the basis for the infringing activity. This Section sets forth the entire obligation of Vendor and your exclusive remedy against Vendor or any of its suppliers for any infringement claim.
15. Internet; Delays
YOU ARE SOLELY RESPONSIBLE FOR PROVIDING INTERNET ACCESS IN ORDER TO ACCESS AND USE THE SERVICES. VENDOR'S SERVICES MAY BE SUBJECT TO LIMITATIONS, DELAYS, AND OTHER PROBLEMS INHERENT IN THE USE OF THE INTERNET AND ELECTRONIC COMMUNICATIONS. VENDOR IS NOT RESPONSIBLE FOR ANY DELAYS, DELIVERY FAILURES, OR OTHER DAMAGE RESULTING FROM SUCH PROBLEMS.
16. Limitation of Liability
EXCEPT FOR A PARTY'S INDEMNIFICATION OBLIGATIONS, IN NO EVENT SHALL EITHER PARTY'S AGGREGATE LIABILITY EXCEED THE AMOUNTS PAID OR PAYABLE FROM YOU IN THE TWELVE (12) MONTH PERIOD IMMEDIATELY PRECEDING THE EVENT GIVING RISE TO SUCH CLAIM. IN NO EVENT SHALL EITHER PARTY AND/OR ITS LICENSORS BE LIABLE TO ANYONE FOR ANY INDIRECT, PUNITIVE, SPECIAL, EXEMPLARY, INCIDENTAL, CONSEQUENTIAL OR OTHER DAMAGES OF ANY TYPE OR KIND (INCLUDING LOSS OF DATA, REVENUE, PROFITS, USE, OR OTHER ECONOMIC ADVANTAGE) ARISING OUT OF, OR IN ANY WAY CONNECTED WITH THE SERVICES, OR THIS AGREEMENT, INCLUDING BUT NOT LIMITED TO THE USE OR INABILITY TO USE THE SERVICES, OR FOR ANY CONTENT OBTAINED FROM OR THROUGH THE SERVICES, ANY INTERRUPTION, INACCURACY, ERROR OR OMISSION, REGARDLESS OF CAUSE IN THE CONTENT, EVEN IF THE PARTY FROM WHICH DAMAGES ARE BEING SOUGHT OR SUCH PARTY'S LICENSORS HAVE BEEN PREVIOUSLY ADVISED OF THE POSSIBILITY OF SUCH DAMAGES.
17. Additional Rights
Certain states and/or jurisdictions do not allow the exclusion of implied warranties or limitation of liability for incidental, consequential or certain other types of damages, so the exclusions set forth above may not apply to you.
18. Assignment; Change in Control
This Agreement may not be assigned by you without the prior written approval of Vendor, (such approval not to be unreasonably withheld) but may be assigned without your consent by Vendor to: (i) a parent or subsidiary, (ii) an acquirer of assets, or (iii) a successor by merger. Any purported assignment in violation of this section shall be void. Any actual or proposed change in control of you that results or would result in a direct competitor of Vendor directly or indirectly owning or controlling 50% or more of you shall entitle Vendor to terminate this Agreement for cause immediately upon written notice.
19. General
This Agreement shall be governed by Colorado law and controlling United States federal law, without regard to the choice or conflicts of law provisions of any jurisdiction which would apply the laws of another jurisdiction, and any disputes, actions, claims or causes of action arising out of or in connection with this Agreement or the Services shall be subject to the exclusive jurisdiction of the state and federal courts located in Denver, Colorado USA. No text or information set forth on any other purchase order, preprinted form or document (other than an Quote/Invoice, if applicable) shall modify the terms and conditions of this Agreement. If any provision of this Agreement is held by a court of competent jurisdiction to be invalid or unenforceable, then such provision(s) shall be construed, as nearly as possible, to reflect the intentions of the invalid or unenforceable provision(s), with all other provisions remaining in full force and effect. No joint venture, partnership, employment, or agency relationship exists between you and Vendor as a result of this agreement or use of the Services. The failure of Vendor to enforce any right or provision in this Agreement shall not constitute a waiver of such right or provision unless acknowledged and agreed to by Vendor in writing. This Agreement, together with the Vendor's Privacy Policy and any applicable Quote/Invoice, comprises the entire agreement between you and Vendor and supersedes all prior or contemporaneous negotiations, discussions or agreements, whether written or oral, between the parties regarding the subject matter contained herein.
20. Definitions
As used in this Agreement and in any Quote/Invoices now or hereafter associated herewith:
"Vendor Systems" means the hardware, software, network equipment, and other technology used by Vendor to deliver the Service.
"Vendor Technology" means the Vendor System, and any other of Vendor's proprietary technology (including software, hardware, products, processes, algorithms, user interfaces, know-how, techniques, designs and other tangible or intangible technical material or information) made available to you by Vendor in providing the Service.
"Content" means the visual information, documents, software, products and services contained or made available to you in the course of using the Services.
"Customer Data" means any data, information, content, or material provided, made available, or submitted by you to the Services in the course of using the Service.
"Documentation" means Vendor's Customization Guide and Technotes that are generally made available by Vendor to all customers.
"Intellectual Property Rights" means unpatented inventions, patent applications, patents, design rights, copyrights, trademarks, service marks, trade names, domain name rights, mask work rights, know-how and other trade secret rights, and all other intellectual property rights, derivatives thereof, and forms of protection of a similar nature anywhere in the world; "License Administrator(s)" means those Users designated by you who are authorized to purchase licenses online using the Online Order Center or by executing written Quote/Invoices and to create User accounts and otherwise administer your use of the Service.
"License Term(s)" means the period(s) during which a specified number of Recipients are licensed to use the Services pursuant to the Quote/Invoice(s).
"Mobilepermissions.com Service" means the service provided by Mobilepermissions.com to which you must be a subscriber in order to obtain Services.
"User(s)" means your employees, representatives, consultants, contractors or agents who are authorized to use the Services and have been supplied user identifications and passwords by you (or by Mobilepermissions.com).
"Recipient(s)" means individuals that are serviced by your organization.
IN WITNESS WHEREOF, the parties have executed this Agreement as of the date set forth above. All copies of this Agreement signed by both parties shall be deemed originals. This Agreement shall be effective upon execution on behalf of Vendor and Customer by their duly authorized representatives.
By: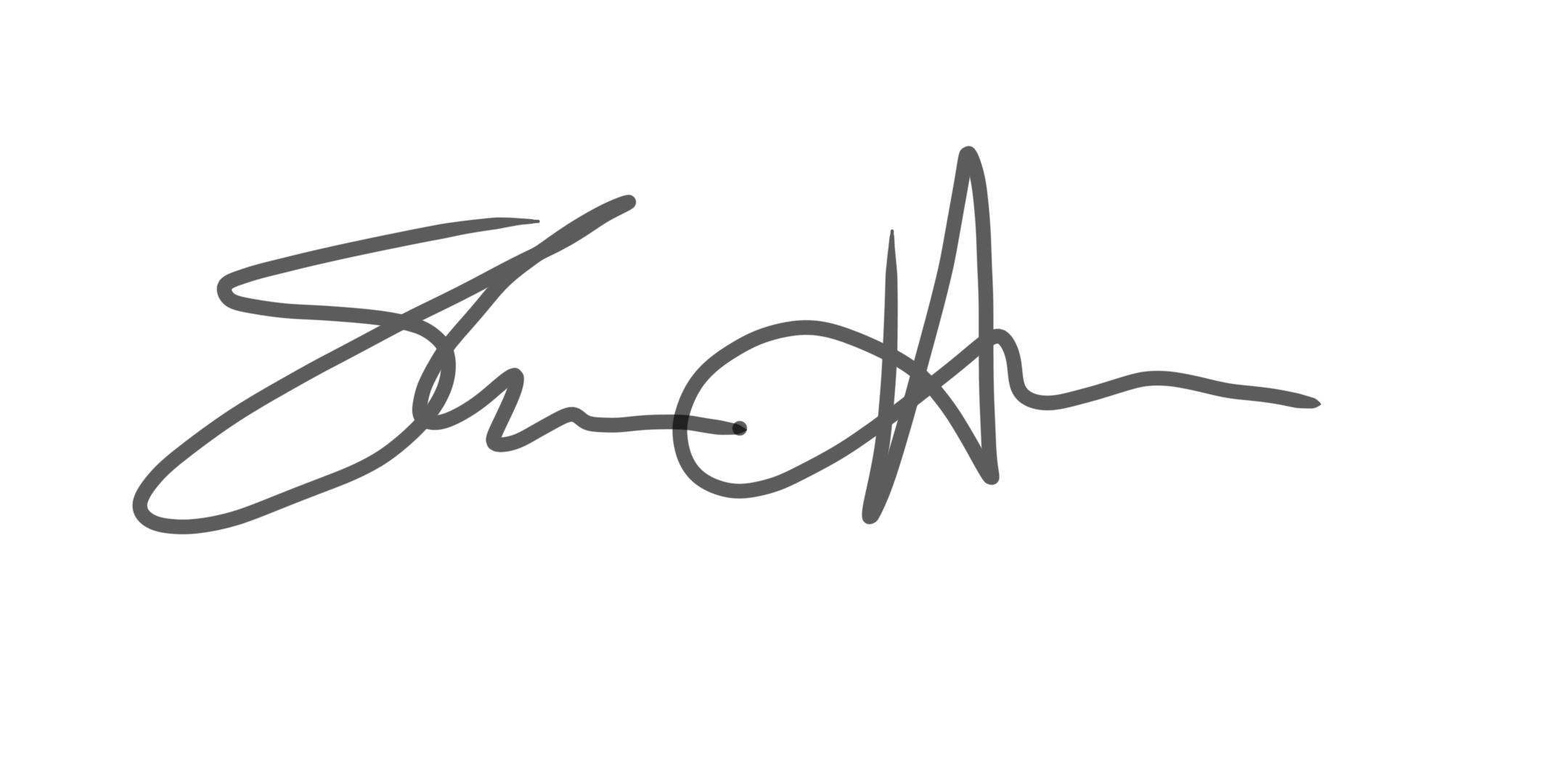 Shawn Harris
Owner
Date: 8/19/20
EXHIBIT A.
SOFTWARE AND PRICING
Software: MobilePermissions.com
Pricing: Pricing is determined by the number of Recipients served by the Service, not Users. For example, if the organization is a school, the students are the "Recipients" and the teachers are the "Users".
Pricing will be determined by multiplying [the accepted rate] x [number of Recipients].
There is also a required setup fee to import Users and set up their accounts. Users are responsible for setting up Recipient accounts
Current Pricing [as of August 8, 2020]
| Number of Recipients | Cost per Recipient | Setup fee |
| --- | --- | --- |
| 1-199 | $0.49 | $17 |
| 200-499 | $0.45 | $28 |
| 500-999 | $0.43 | $49 |
| 1000-2499 | $0.39 | $99 |
| Custom Quote | $0.35 | $199 |