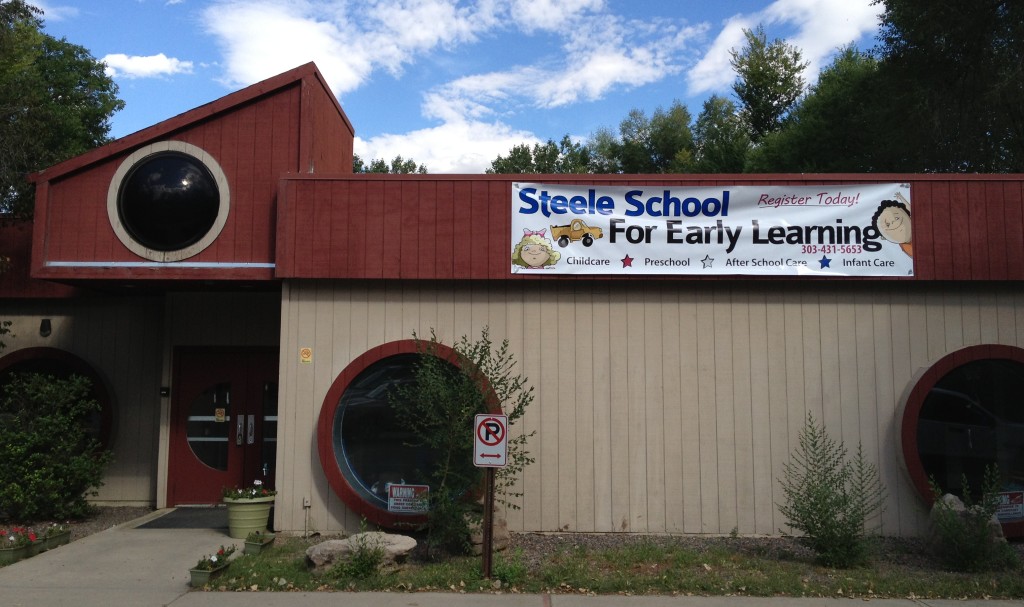 The History of Steele School from the Director
Once upon a time there was a Christian School for 5-18 year old children. It was called Maranatha Christian School.  It was a wonderful school that operated at 71st and Oak Street for over 30 years on a beautiful campus with 15 acres, 5 playgrounds, and a petting zoo full of ponies, sheep, goats, ducks, and geese. It was a happy place and the children and staff loved it. In 2011 they decided it was time to retire and sold the campus to a charter school named Two Roads Charter School.
The staff of the child care center were sad to see that their center would be closing.  In August of 2010 I was hired by Two Roads to be the preschool, child care, and kindergarten Division Director. I found a staff that was the most dedicated, nurturing, and professional staff I had ever met.  I was lucky to find that they were all on board and agreed to stay with the new administration, even though it meant that they would be making many changes and embracing a whole new philosophy. They entered with open hearts and open minds. And so the child care center remained.
We were a happy crew for about three years until Two Roads came to us one day and let us know that they would no longer be able to remain on that beautiful campus.  We were heartbroken but prepared to close the center in May of 2013.
But all was not lost!  We were able to find a new building and with a mighty budget of $0 and A LOT of hard work from parents and staff, we renovated our new home over the summer of 2013 to open as the Steele School for Early Learning in August of 2013, with 8 children.  Our current enrollment is around 50 children and I am so proud to say that these original staff are still with us:
Juanita Moya   14 years
Melanie Lujan  5 years
Vie Feliciano 4 years
Andrea Lapina 17 years
Amy Steele 8 years
Lana Wagner 6 years
Krista Neues  7 years
And we plan to live happily ever after.
Please meet our wonderful staff:
I was born in California and moved to Colorado in 2008.  I have been working with children since 1998 when I graduated from the University of Wyoming and Cal State Fullerton.  My husband and I have been together since 1997 and married in 2009. We have an adorable son and 2 amazing pit bulls.
Ms. Paula
(no photo yet)
I am an Infant Nursery Supervisor. I have been teaching young children for 34 years. I have 3 wonderful girls of my own. I love to teach the children and watch them grow. They are such a precious gift to me that I enjoy every day.
Ms. Melanie
(no photo yet)
I am an Infant Nursery Supervisor. I came here when we moved from the Farm at Two Roads Charter School. What I enjoy is that we all came here together and formed our own sort of family. I have worked with infants and school age children for 16 years. I love working with infants because they are a reminder that there is always a new beginning for all things. Children are all a different kind of flower, we only need to stand back and watch them grow into a beautiful garden.
I started working with children in 2007 as a first and second grade teacher assistant. I also did afterschool care for preschool and toddlers. This is when I found out how much I enjoy working with the younger children. This is a fun age for me because they are very curious and ready to explore the world.
Aloha! I was born in Hawaii and have now lived in Colorado for 39 years. I have 3 sons, 10 grandchildren and 1 great grandchild. I have been working in childcare for 21 years and I just love the Keikis (children)

I am the 3 year old preschool teacher. I have taught 2 to 4 year olds for 7 years. I earned my Early Childhood Teacher Certificate at Front Range Community College, and am currently working to finish my Associates Degree in Early Childhood Education.

I love watching children accomplish new things and feel independent.

I enjoy enhancing children's communication and language skills and then watching it in action when they express themselves in their own unique way.

I have my Bachelors degree in Elementary Education. I have been teaching for 16 years. This is my 5th year in Early Childhood Education. I love being able to learn and grow alongside your children.
I am the cook here at Steele School for Early Learning. I have worked in the food industry for eight years, both in the kitchen and in management. I love helping in the growth and development of the children.
I am the Director at Steele School for Early Learning. My degree is in Early Childhood Education and Child Development. I taught Head Start for 20 years then entered child care where I have been an administrator for 25 years. I believe in children and families and feel blessed each day to be a part of children's lives. I see the genius in every child.
I am part of the administration team at Steele School For Early Learning. I have my MBA and an ECE Teaching certificate. I am a US Army combat veteran and have now been in the childcare industry for over 8 years. I am excited to make a difference in a child's life.

Hi!  I have one daughter.  I have lived in Colorado for most of my life.  I went to Pickens Tech for my Early Childhood Education Certificate.

I love working with children of all ages.

I started here at Steele School in late 2015.  I worked for some years with many of these teachers when Maranatha Christian Center was still around.  I took some time away from teaching to go back to school and open my own hair salon named "Affirmations Style Spa" in Wheat Ridge.  I am very lucky to have the opportunity to co-teach preschool for the first part of the week (Mon-Wed) and work in my salon on Thursday-Saturday.

I have 3 children:  2 boys and 1 girl.  Dylan is 17 and will graduate this year.  Taylor is 14 and in the 8th grade, and Brandon is 10 and in the 5th grade.  In my classroom, we love to sing and dance  Some of our favorites are "ToodyTa", "Mister Sun" and "The Wheels On The Bus".  I look forward to many more years of teaching here at Steele School for Early Learning.

I was born and raised in Thailand.  I have a BA in Education.  I came to the USA in 2007 and lived in Minnesota for 7 years.  I married my husband Michael and we have one son, Mykai who attends Steele School.  In July 2014, we relocated to Colorado and live in the Arvada area.  I have been working with children for more than 8 years and enjoy it very much.  They are very silly and are like a ray of sunshine to me.